Talleres Dizmar, S.L.
Talleres Dizmar, S.L. was born in Porriño, Pontevedra and is one of the companies of GRUPO DIZMAR; It was founded in 1974 as a welding and boiler workshop.
With our work and desire to improve, year after year, we have been specializing in repair and manufacturing of couplings for heavy machinery, maintenance of facilities, fabrication and assembly of steel structures for major projects, bridges, walkways, viaducts, shipbuilding, etc …
We offer a solution to our customers, design, calculation, manufacture and assembly tasks in different areas of our specialty.
In June of 2014 GROUP DIZMAR expanded its production capacity with the extension of the workshops located in O Carballino – Ourense wit 13.600m2 workshop 11.600m2 under hook and 25.000m2 of ground area for manoeuvres and stockpiles.
Company Policy
The Company's management have the commitment to obtain the highest degree of customer satisfaction.
The objectives of company decisions are fulfilment of our commitments.
All company management is carried out in an environment of respect for the law, with particular attention to the enforcement of the occupational safety and health law.
This policy is communicated to all employees, and is available to all interested parties.
In addition, the policy is reviewed annually by following the procedures of continuous improvement, and as are specific goals that arise from it.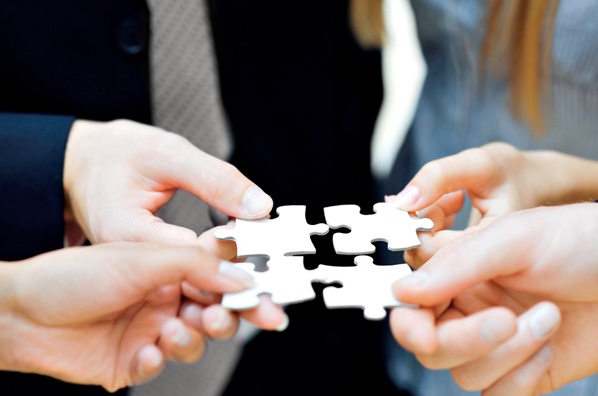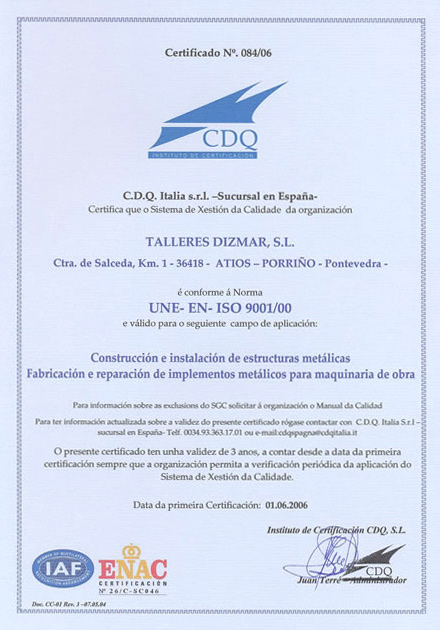 Quality
TALLERES DIZMAR has a Quality System according to ISO 9001: 2008 as certified by the company CQD Italia srl
• CE certification for the manufacture and assembly of steel structures according to EN 1090 in all performance classes (EXC1, EXC2, EXC3, EXC4). UNE-EN 1090-1: 2011 + A1
• Certification of welders
• Complies with current safety regulations and is in the process of implementation of the management system according to OHSAS 18001: 2007
• Complies with environmental regulations and is in the process of implementing the environmental management system according to ISO 14001: 2004
• We apply anti-corrosion treatments according to ISO 12844 certified by the paint manufacturers.